Learning Industries Limited
e-Learning Courses
Managing Delegation Safely in Healthcare e-Learning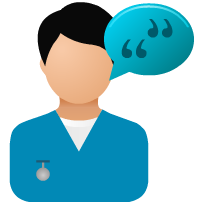 Safe delegation is an essential aspect of patient care. The Managing Delegation Safely in Healthcare e-Learning covers the principles of delegation, emphasising the need to understand how to delegate tasks safely to appropriate staff members.
The module also covers accepting delegated tasks: knowing when to question delegated tasks and providing the confidence to refuse tasks which are deemed unsuitable or inappropriate.
Communication is an essential aspect of safe delegation and this aspect is also covered in the module.
Introduction
Safe Delegation
Scenarios
Case Studies
Summary