Learning Industries Limited
e-Learning Courses
Veterans Mental Health Awareness Training e-Learning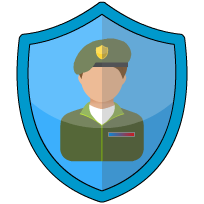 This suite of e -Learning modules has been designed to raise awareness in healthcare of mental health conditions in veterans, explaining the connection between being a veteran of the armed forces and mental health challenges, explaining the link with offending patterns and behaviours. The difficulty some veterans experience in transitioning between life in the armed forces to civilian life is explained, with examples used to illustrate why this transition may make it difficult for veterans to seek support.
The suite of modules covers the definition of a veteran, how to identify a veteran and why identifying veterans is important when developing their care.
The importance of trauma informed care is emphasised and ways to access relevant support explained.
The suite of modules covers:
Who are Veterans?
Military Culture and the Transition to Civilian Culture
Common Mental Health Problems in Veterans
Barriers to Seeking Support
Veterans and Offending Behaviour
Accessing Specialist Support for Veterans
The Armed Forces Covenant and the NHS
Trauma Informed Care for Veterans
Therapeutic Toolbox